45.

Connecting to a Flight Simulator¶

The setup procedure is different for local connections and remote (networked) connections to a flight simulator (Remote Connection).

Little Navmap can connect directly to a flight simulator running on the same computer. The Little Navconnect agent is needed if Little Navmap is used on a remote computer.

The Little Xpconnect plugin has to be installed in X-Plane to allow both Little Navmap and Little Navconnect to connect to X-Plane.
45.1.

Local Connection¶
45.1.1.

All Simulators¶

Open the connection dialog in Little Navmap by selecting Tools -> Flight Simulator Connection in the main menu and choose the simulator to which the connection should be established.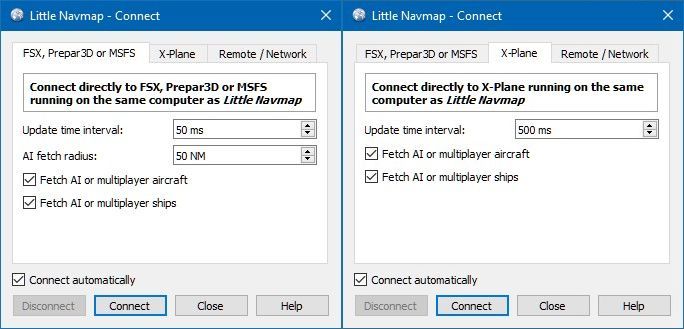 Click on the tab corresponding to the simulator you want to connect to.
Now click the Connect button. The dialog will close and Little Navmap will try to establish a connection in the background to the simulator noted in the tab header.
Clicking Close keeps all changes and closes the dialog without establishing a connection.
Enable Connect automatically if you do not want to connect manually. The start order of programs does not matter if this is checked. Little Navmap will find the simulator once it is started or when it is already running. This is the recommended setting.
Deselect Fetch AI or multiplayer aircraft or Fetch AI or multiplayer ships to disable the transfer of this information to the program. This can be useful for performance reasons if you use large amounts of AI but do not want to see it in Little Navmap.
This option also affects the frigate and carrier in X-Plane.
45.1.2.

X-Plane¶

You have to install the included Little Xpconnect plugin to use Little Navmap as a moving map with X-Plane.

The plugin is bundled with Little Navmap but can also be downloaded separately.

Copy the whole plugin directory Little Xpconnect into the directory plugins in the directory Resources in the X-Plane installation. The complete path should look like .../X-Plane 11/Resources/plugins/Little Xpconnect

The plugin is installed and working correctly if you can see it in the X-Plane plugin manager. Note that the plugin does not add any items to the X-Plane menu.

Select the X-Plane tab to connect.
45.2.

Remote Connection¶

User aircraft and weather information is transferred to Little Navmap on a remote computer by using the Little Navconnect agent on the flying computer.

Note

Airport weather information and winds aloft cannot be transferred across a remote connection from X-Plane. You can only see the current weather around the user aircraft.

See Network Setup on information how to set up a remote/networked connection.
45.3.

Connect Dialog Options¶
Disconnect: Disconnect the current session and stop automatic reconnect.

Connect: Try to connect. An error dialog will be shown if no connection can be established. Little Navmap will constantly try again if Connect automatically is enabled.

Close: Close the dialog without any changes to the current connection status.

Connect automatically: Little Navmap will try to connect constantly if this is enabled. This is the recommended setting.

All connection attempts will stop immediately if you deselect this button.

You have to click Connect once to start the automatic connection attempts after checking this button.

Update Time Interval: Allowed range is 50 milliseconds up to 1 second. Little Navmap fetches data from a simulator using this time interval. Increase this value if you experience stutters or lag in the simulator. A lower value will result in more fluid map updates in Little Navmap.

Fetch AI or multiplayer aircraft and Fetch AI or multiplayer ships: Disables fetching of AI vehicles. These settings are applied immediately.

AI Fetch Radius: Limits the number of AI aircraft around the user aircraft. Only for FSX, P3D and MSFS.