9.

Menus and Toolbars¶

This chapter describes all the menu items of Little Navmap. You will find most of this functionality on the toolbars as well which are not be described separately. Keyboard shortcuts can be seen on the menu items. See Keyboard Shortcuts.

9.1.

Tear off Dropdown Menus¶

Toolbar buttons and the drop down menu button the Flight Plan Route Description allow to tear of the menu by clicking on the dashed line on top of it.

This will move the menu into a separate window and allows to quickly change several options at once.

The state of the tear off menus is not saved.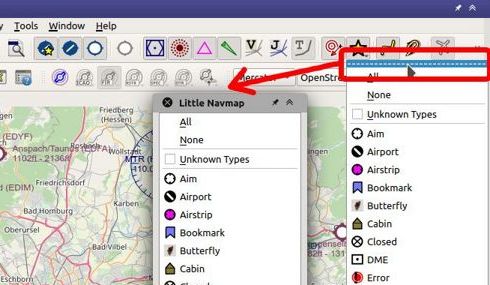 9.6.

Weather Menu¶
9.6.1.

Airport Weather Source¶

Selects the source for the airport weather symbol display on the map. See also Airport Weather and Weather.

The following options are available:
9.6.2.

Wind source¶

Choose the source for winds aloft forecast data here. This will affect the calculation of top of descent, top of climb and fuel planning. See also Winds Aloft and Weather.

A manual wind setting for cruise altitude can also be used. See Buttons.

The selected wind source is shown in the tab Fuel Report in the Average wind line as well as in all tooltips on wind barbs.
9.6.2.1.

Manual Wind¶

This is the same function as the Manual Wind button in the Fuel Report tab.

This menu item overrides the wind source and allows to set the average wind direction and speed manually. Two input fields are shown in the Fuel Report tab if this is checked.
9.6.2.2.

Disabled¶

No wind will be downloaded and processed.
9.6.2.3.

Flight Simulator (X-Plane only)¶

Uses the global_winds.grib file which is downloaded and used by X-Plane. This file uses only two wind layers and is therefore less accurate than the NOAA option.
9.7.

Userpoint Menu¶

See Userpoints for more information on user-defined waypoints.
9.10.

Scenery Library Menu¶