35.

Flight Plan Route Description¶

This dialog allows you to create a flight plan from a route description string consisting of airport and navaid idents as generated or provided by various online services.

The New Flight Plan from Route Description dialog opens with the route description for the current flight plan which also contains information about speed and cruise altitude if enabled.

The top half of the dialog holds the route description input field, while the bottom half shows any messages, warnings or errors that occur during reading.

The menu button

provides a dropdown menu than can be used to customize the generated route string.
Little Navmap will try to use as much of the route as possible even if parts of the flight plan like waypoints or airways cannot be found or names are ambiguous. You will see warnings in the bottom half if that is the case.
If a route covers a long distance and contains a waypoint name which is not unique, a wrong waypoint might be added to the flight plan. Correct or remove this waypoint manually.
Many waypoints and airways will not be found if route descriptions from the latest AIRAC sources are used together with the old FSX, P3D or MSFS stock data. It is recommended to use a navigation data update for the stock scenery or Little Navmap when reading route descriptions from online sources like RouteFinder, Online Flight Planner, SimBrief or SkyVector.
If a navdata update is not an option, pick the online service's AIRAC cycle that is closest to the cycle the navigation data of your flight simulator is based on.
Note that even flight plans calculated in Little Navmap cannot be converted back exactly in some cases. This happens due to navaid ambiguities like NDB and VOR stations having the same names or errors in the source data.
The cruise altitude is used to create the flight plan, if given. Otherwise the cruise altitude is automatically determined by the flight plan type (IFR or VFR) and the minimum altitude of the used airway segments.
The cruise speed is ignored and produces a warning if found.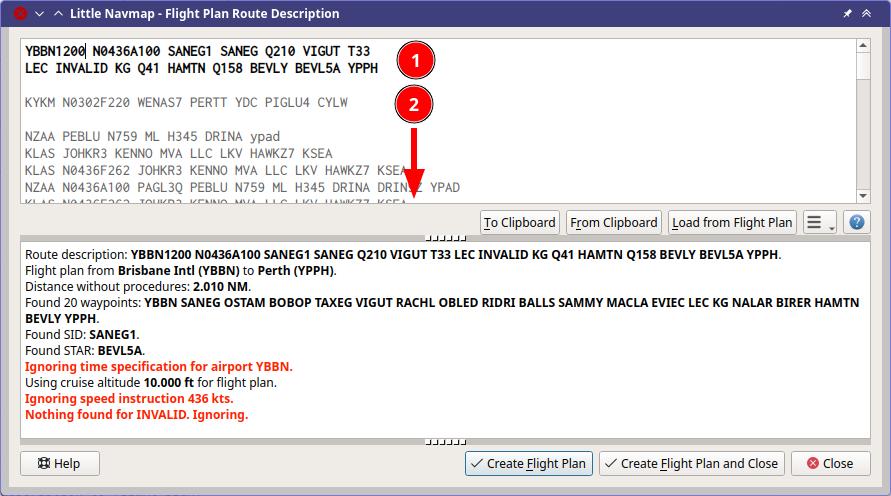 35.2.

Airport idents¶

ICAO, FAA, IATA and local codes are shown and the internal ident is avoided for display if possible. Note that IATA codes are only read for departure and destination since they can be easily confused with navaids en-route.

Note that X-Plane internal codes like XPA000B are still recognized despite being avoided for display.
35.3.

Format¶

The route description has to follow the format rules below:

FROM[ETD] [SPEEDALT] [SID][.TRANS] [ENROUTE] [STAR][.TRANS] TO[ETA] [ALTERNATES]

All elements in square brackets are optional.

FROM and TO: These are the required 3 or 4 letter idents for departure and destination airports.

Examples: KEAT, CYPU, S16.

ALTERNATES: Alternate airports are optional and are added to the flight plan when reading depending on the option Read trailing Airports as Alternates as described above.

SPEEDALT: An optional entry that contains the cruise speed and altitude. See below for a details. Speed is ignored when reading since it is part of the aircraft performance profile.

ENROUTE: This is a list of either WAYPOINT or an AIRWAYWAYPOINT forming the actual flight plan. The first entry has to be an airport, waypoint, VOR or NDB.

WAYPOINT: A waypoint, VOR, NDB, airport or user-defined coordinates. See below for a details about coordinates. A waypoint can be prefixed with DCT to indicate a direct connection not using an airway. Waypoints can be suffixed with an optional /SPEEDALT value although this is ignored.

Examples: TAU, BOMBI, AST, CL, EDDF.

AIRWAYWAYPOINT: Airway and end waypoint on the airway separated by a space.

Examples: V495 CONDI, V338 YVR, V330 TRENA.

SID.TRANS and STAR.TRANS: Either the words SID or STAR or real SID, STAR and transition names where the optional transition is separated by a .. The generic keywords SID and STAR create a direct connection to the en-route part.

Examples: RDHK2.HOLLE, OHIO3.LFK, RDHK2, OHIO3.
35.4.

Flight Plan Description Examples¶

Frankfurt Main (EDDF) to Fiumicino (LIRF):

Direct connection:

EDDF LIRF or EDDF DCT LIRF.

VOR to VOR:

EDDF FRD KPT BOA CMP LIRF.

Same as above with departure time ( ETD ) and arrival time ( ETA ) which both will be ignored:

EDDF1200 FRD KPT BOA CMP LIRF1300.

Same as above on flight level 310 at 410 knots:

EDDF N0410F310 DCT FRD DCT KPT DCT BOA DCT CMP DCT LIRF

Using Jet airways:

EDDF ASKIK T844 KOVAN UL608 TEDGO UL607 UTABA UM738 NATAG Y740 LORLO M738 AMTEL M727 TAQ LIRF

Same as above on flight level 310 at mach 0.71 with an additional speed and altitude at NATAG which will be ignored:

EDDF M071F310 SID ASKIK T844 KOVAN UL608 TEDGO UL607 UTABA UM738 NATAG/M069F350 Y740 LORLO M738 AMTEL M727 TAQ STAR LIRF

User-defined waypoints with degree/minute notation and an alternate airport LIRE :

EDDF N0174F255 4732N00950E 4627N01019E 4450N01103E LIRF LIRE

Flight plan using SID and STAR procedures with transitions:

KPWA RDHK2.HOLLE ATOKA J25 FUZ J33 CRIED J50 LFK OHIO3.LFK KHOU

Flight plan using the generic SID and STAR keywords:

KPWA SID ATOKA J25 FUZ J33 CRIED J50 LFK STAR KHOU

Flight plan using SID and STAR procedures with transitions and two alternate airports:

KPWA N0169F190 MUDDE3 ATOKA J25 FUZ J33 CRIED J50 LFK BAYYY3.SJI KHOU KCLL KVCT